In 2015 Wesley Church celebrated 150 years of Christian witness at Kent Town.
As part of the celebrations Uniting Church SA Moderator Dr Deidre Palmer was a guest at Wesley Uniting. Following the service she unveiled the new sign which celebrates Wesley as the Jubilee Church.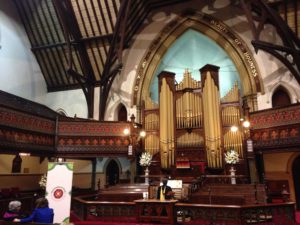 A number of events were held during the year, to give thanks for the role the congregation has in proclaiming the Gospel, and for their influence in the lives of thousands of South Australians.
A history of the Wesley Kent Town Church has been published and was launched at Prince Alfred College on 18 July. The House of God – The Gate of Heaven is available for purchase from Wesley Uniting Church at a price of $40.00.